Case
Road freight specialist adds high security trailers to the fleet
01.03.2016
CTS Group, the global logistics and road freight specialist, has ordered a number of high security trailers which, says the company, are available only from one source and specified to comply with strict UN class 1-9 contractual requirements.
Designed and built by Ekeri, the Finnish semi-trailer and truck body manufacturer, the new trailers join an extensive and diverse fleet of vehicles ranging from 2.8 to 44 tonnes, all of which are specified to carry high value and sensitive goods.
"Owing to the specialised nature of the work undertaken by these trailers" says Doug Overett, Commercial Director at CTS, "the construction must be of the highest quality to guard against tampering and to ensure maximum load security. We turned to Ekeri because they are the only trailer manufacturer who produces a trailer to the criteria specified by our customers."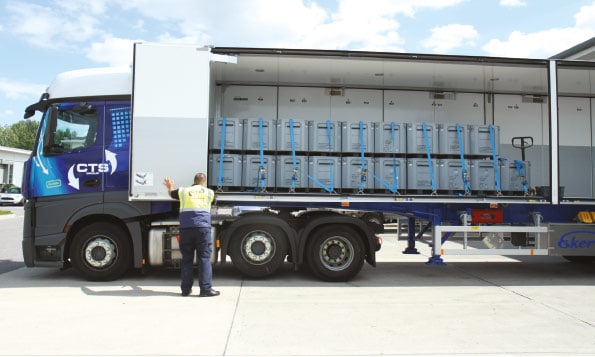 These criteria include the specification of box trailers which can be side loaded and centrally locked from the cab using remote control; anti-pry doors; reinforced floors with 3mm hardened aluminium chequer plate and high-strength 1.5mm steel wall surfaces for added impact protection.
Furthermore, the trailers are fitted with a sophisticated alarm system with audio and visual alerts linked directly to the traffic office. For additional security, when each trailer is detached from the tractor unit, real time surveillance is maintained using satellite tracking.
"We are specialists at the 'high end' of sensitive and high value goods handling – simply put, consignments that are dangerous, delicate and difficult to move." Continues Doug
"Loads can include aerospace, defence and security sensitive items which not only require careful handling during transit but also, because of their extremely high value and/or high risk must be afforded the highest security at every stage of the journey. Certainly, CTS Group and our customers in turn are satisfied that these trailers are up to the task."
Although CTS offers a complete global logistics service, the company's heritage lies in road freight and since 1997 they have been delivering highvalue, sensitive and hazardous goods for a cross section of Commercial and Government organisations across the UK and throughout Europe.
"For European contracts the Ekeri trailers again come into their own," adds Doug "not least in terms of the curren immigration issues at ports. The Ekeri trailers offer extremely high security standards for companies exporting and importing sensitive and high value goods between UK and Europe. Indeed, one of the drivers has told us that a port official commented on the high standard of security offered by the Ekeri trailers, being unlike anything he had seen!"
From its Reading headquarters CTS Group's road, sea and air freight operations are supported by 30,000 sq ft of secure warehousing which is available for short and long term storage, freight forwarding, pick and pack services, palletising and consignment consolidation.